Smink Dressage Group has the experience to help you excel!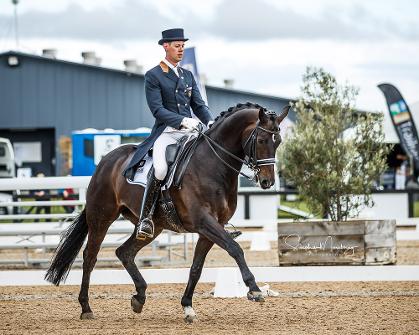 About Us
We are experienced, highly qualified professionals. With excellent references and a broad network to either find riders their dream horse and train you and or your horse to fulfil your goals and ambitions.
Services
Private Dressage Lessons from preliminary to Grand Prix
Training and preparation for competition and sale
Assist in finding your dream horse
Corrective work
Retraining of the difficult dressage horse
Clinics Australia wide
Our Commitment
You can be confident that your horse and your personal ambitions will always be handled with professionalism, integrity, and the utmost of care. The end result will be a Happy Horse and a Happy Rider .
Testimonials
"Marvin is a superb rider with a great feel for the horse." -- Wendy Ansell, Coldstream Park
"Marvin Smink is an excellent rider with lots of patience and feeling for the horses he is training and is able to bring dressage horses up to the highest level." -- James and Emmie Schmul, Heatherton Park Dressage Stables
"Marvin possess great horsemanship skills and his interpersonal coaching skill are from very high standard. His manners are impeccable and he is a hard working, reliable man. His passion for the equine industry reflects in his work and the way he carries out his duties." -- Miriam Lowles, Equella Warmblood Stud
"Since Marvin has been instructing my daughter, Mikaela, he has been able to give her the skills to resolve problems that she was having with the horses and previously and to become a better rider, and as a result she has had success out at competitions." -- L. Witte
"I have enjoyed coaching with Marvin since September 2013 and believe that he makes a positive contribution to the sport in Australia" -- Dr. J. Mould, EA Judge
"From the time of our first meeting with Marvin I have been highly impressed with his knowledgable and professional approach, his high standards, his emphasis on the welfare of both horse and rider, and his dedication to doing the best possible. This is evident not only in his coaching skills, but also in his approach to his own riding. We have observed him on many occasions, riding our own horse and others, in both training and competition, and he has a skill maturity that belies his years." -- Dr. F. Thompson, FEI 4* Veterinarian